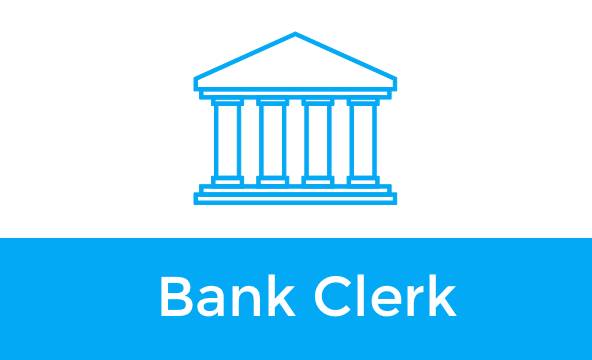 Clerk Exams for clerical jobs in various Banks.
Click Here for Free Unlimited Online Mock Test
SBI Clerk Exam
About SBI Clerk
State Bank of India is the largest public sector bank in India. Bank Clerk is responsible for providing customer support and basic day to day tasks within the bank. Hence getting a job as a Clerk in SBI is a dream-come-true for many candidates therefor the competition is very high.
SBI Clerk Selection Process:
The selection procedure for SBI Clerk prelims involves three phases:
Phase-I: Preliminary Examination (Online Objective test)
Phase –II: Mains Exam (Online Objective test)
Phase –III: Local Language Test
SBI Clerk Prelims Exam Pattern:
| | | | |
| --- | --- | --- | --- |
| Section | No. of Questions | Total Marks | Duration |
| English Language | 30 | 30 | 20 minutes |
| Numerical Ability | 35 | 35 | 20 minutes |
| Reasoning | 35 | 35 | 20 minutes |
| Total | 100 | 100 | 60 minutes |
|   |   |   |   |
Bank Clerk SBI Mains
Once clearing the prelims exam, further you will be eligible to write Mains exam. So Marks of mains exam are counted in preparing the final merit list.
SBI Clerk Mains Exam Pattern
Also Negative marking of 1/4th marks apply for every wrong attempt. You need to score a minimum marks in the overall paper to qualify the Mains exam, though no sectional qualifying marks is applicable.
And the final merit list will be prepared based on the marks obtained in the Mains exam. Marks obtained in the Prelims exam will not be counted.
| | | | |
| --- | --- | --- | --- |
| Name of Section | No. of Qs | Marks | Duration (Min) |
| General/Financial Awareness | 50 | 50 | 35 |
| General English | 40 | 40 | 35 |
| Quantitative Aptitude | 50 | 50 | 45 |
| Reasoning Ability & Computer Aptitude | 50 | 60 | 45 |
| Total | 190 | 200 | 160 min |
 About IBPS (Institute of Banking Personnel Selection) Clerk:
IBPS Clerk notification releases annually every year. Also IBPS conducts a common written exam or CWE every year for the clerical cadre in multiple banks all over the country. All public sector banks use CWE as a base to fill the vacancies for this post. So it is a wonderful opportunity for young and dynamic candidates.
IBPS Clerk Recruitment Process
The recruitment process of IBPS Clerk CWE occurs in two phases:
Phase I – Prelims – Common written exam (online)
Phase II – Mains – Common written exam (online)
Most Important is Students are required to qualify both these exams to get selected for the post of clerical cadre in most of the premier Public Sector Banks.
But important thing to note here is that there is no interview process required for the selection of candidate after the mains exam. However 100% weightage is given to the result of mains exam result.
Bank Clerk (IBPS) Exam Pattern
Phase-1: IBPS Clerk Preliminary Examination
Like SBI the preliminary exam of IBPS Bank Clerk CWE is also an online exam testing a candidate on the basis of their aptitude, intellect and English.
There are three sections in total and the candidate must clear the cutoff of each section to proceed to the mains exam round. Candidates are required to solve the question paper in the time frame of 1 hour.
The composite mark of the paper is 100 and the passing marks are decided by IBPS that is likely to change every year depending on the level of difficulty of the exam.
Sr. No.
Name of Tests(Objective
No. of Questions
Maximum Marks
Duration
1
English Language
30
30
Composite time of 1 Hour
2
Numerical Ability
35
35
3
Reasoning Ability
35
35
Total
100
100
 
Phase-2: IBPS Clerk Mains Examination
Also IBPS Clerk Mains Exam will now constitute of 190 questions that needs to be completed in a time frame of 160 minutes. Similarly Prelim exam it is also Online.
Previously, Computer Aptitude and Reasoning Ability Section used to be conducted separately. But, in the recent update by IBPS, both these sections are amalgamated together and will constitute of 50 questions that needs to be solved in time duration of 45 minutes. Both Preliminary Exam and Mains Exam will be conducted bilingually, i.e. both in English and in Hindi.
Sr. No.
Name of Tests(Objective
No. of Questions
Maximum Marks
Duration
1
Reasoning Ability & Computer Aptitude
50
60
45 minutes
2
English Language
40
40
35 minutes
3
Quantitative Aptitude
50
50
45 minutes
4
General/ Financial Awareness
50
50
35 minutes
Total
190
200
160 minutes
Penalty for Wrong Answers: There is a penalty for wrong answers marked in both preliminary examination as well as mains examination.
A wrong answer to an objective question will lead to a penalty of one-fourth of the total mark assigned to that question.  But there will be no penalty for the question left blank or unanswered.
Final Score Calculation for IBPS Clerk Exam: The final score for the IBPS Clerk exam is calculated keeping the following points in mind
Marks obtained in the Preliminary Exam (Phase-1) will not be considered for selection.
Candidates must qualify Phase-2 to be eligible for final merit.
The aggregate score out of 100 is used for the final merit list for each category. Candidates with top merit rank in each category are finally selected.
Subscribe for Free Unlimited Online Mock Test Preparation
 Moreover you can visit Official Website for Bank Clerk Exam Respective Authority